Shared hosting has, over the years, become the favored web hosting service among many companies, programmers, and website managers. This article will take an in-depth look at how this industry has changed in the past decades.

Before we go into the history and evolution of the shared hosting industry, it's best to first discuss website hosting and web management's history. Several factors have influenced the trends and changes in this sector.

Whenever something significant happens across the world, it often affects the direction of the web hosting industry. We don't even have to go far back in time to see this phenomenon. For instance, swift changes occurred when the COVID-19 pandemic first hit the globe.

Businesses that sold their products in physical stores had to undergo a digital shift; they needed to improve their websites to have eCommerce shops and allow consumers to buy their products from the safety of their homes. Companies also had to partner with or create a logistics arm to enable home delivery.

These business industry changes created a significant impact on web hosting, as entire industries had to scramble and upgrade existing web hosting servers to accommodate the changes happening on their websites.
The Early Years of Web Hosting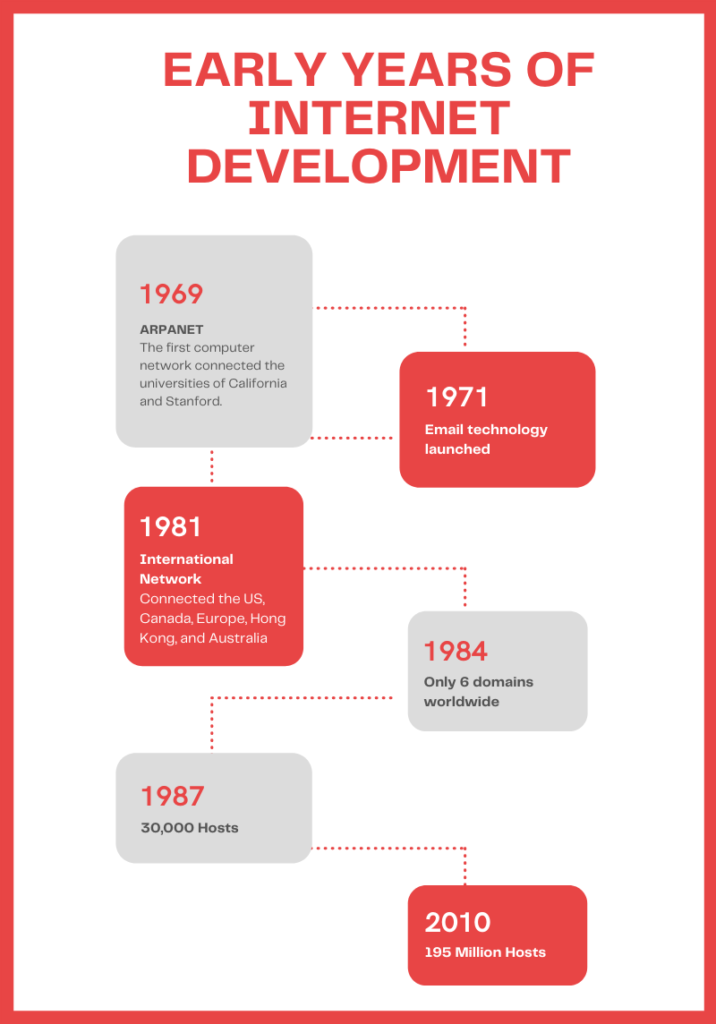 The first thing you need to know about shared hosting service is it relies solely on the Internet, which began in 1969 — making the Internet only 52 years old. The first computer network was called ARPANET, which connected the universities of California and Stanford. Email technology came two years later when it was launched in 1971.

The Internet continued its growth down the line, becoming an international network that connected the US, Canada, Europe, Hong Kong, and Australia in 1981. The Internet continued to accelerate and with domain names, in 1984, there were only up to six of them. By 1987, the Internet became home to almost 30,000 hosts. Fast forward to 2010, when the Internet was already housing a whopping 195 million hosts.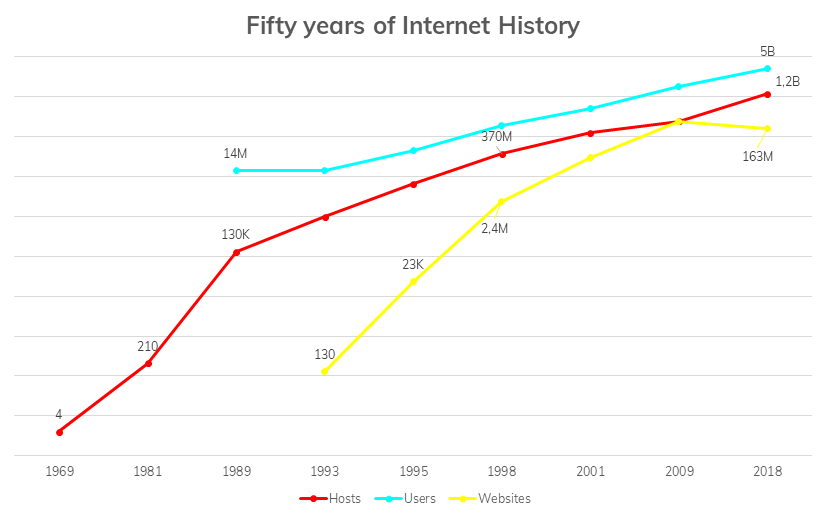 Sources: firstguide.com, internetworldstats.com, internetlivestats.com
For an idea that began in 1969, the Internet has transformed how we interact with the world. And today, the web hosting industry is worth billions of dollars. It might have increased in value again if you check right now, as the industry continually grows in importance per minute.
As of 2018, the sector was worth a little over $90 billion. Industry experts note that with the explosive adoption of Internet services during the pandemic, web hosting is expected to reach almost $220 billion by 2025; this means the industry sustains an annual growth rate of 15%.
The market size of the web hosting industry may be worth billions of dollars, but that figure is often shared among different hosting types—each sector of web hosting experiences unique exponential value growth. Cloud computing, for example, is the sector with the highest growth rate of over 18% by 2025.
Shared hosting services, in particular, are poised to grow over 10% in value per year by 2025. This segment took 35% of total web hosting revenue in 2019, and many firms offer this service. While big-name host services like Google and Amazon exist, the largest by far is GoDaddy. GoDaddy serves over 20 million users on its platform worldwide.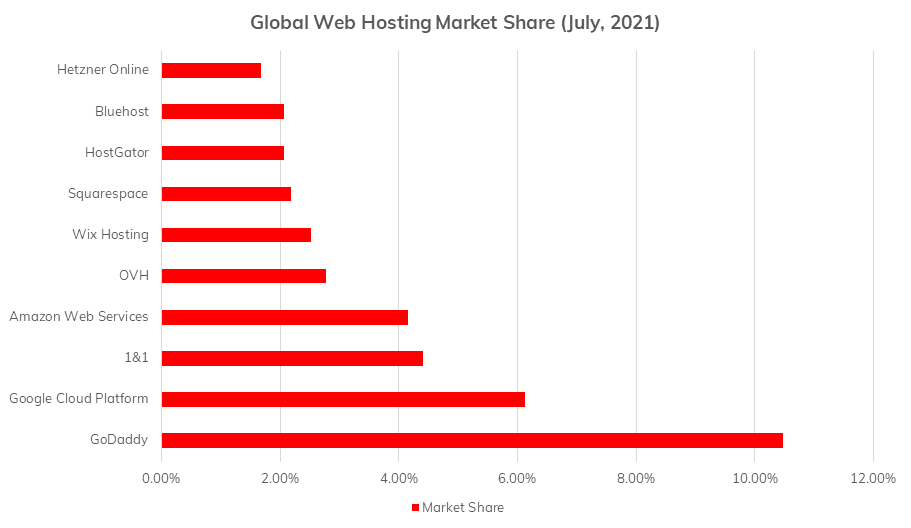 Shared Hosting and Cybersecurity
For the past year, there has been an alarming increase in cyberattacks on websites; there have even been reports of data breaches on huge sites like Facebook. What could a hacker get from your hosted website?
Targets of Cyberattacks
It's easy to think hackers are only coming after huge brands. That's actually how most SMEs think. 3 out of 5 small business owners believe their websites are not a target of cyber-attacks because of their supposed size. But this exact mindset is the reason small businesses are usually the main targets of cyber attackers.
Verizon reported in 2019, that around 43% of cyber attackers prefer to attack small businesses because they always have poor security measures and according to U.S.' National Cyber Security Alliance 60 percent of these businesses are unable to remain open over six months after a cyber-attack.
Number of Data Breaches and Exposed Records
According to Statista, the number of data breaches in the US was seven times higher in 2020 than it was in 2005 and the number of records exposed doubled in this period.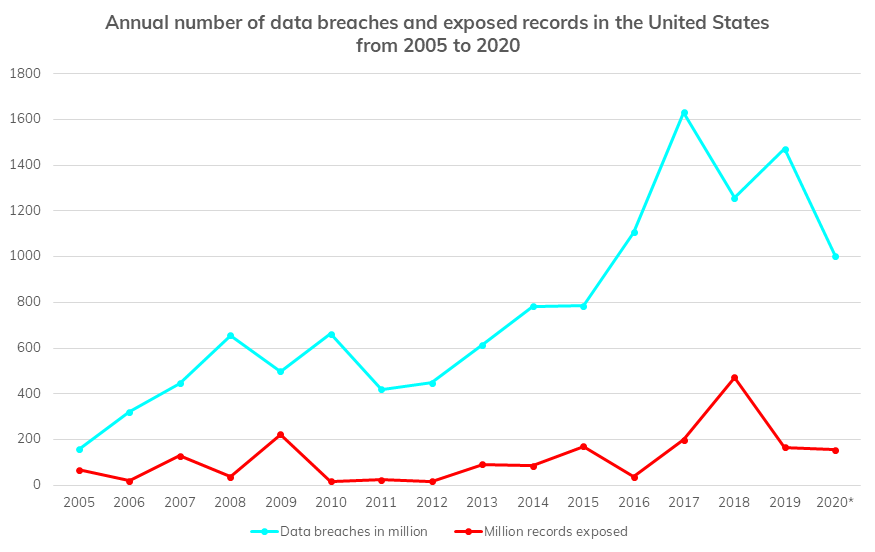 In terms of data breaches, the most dangerous year was 2017 (1.632 billion data breaches).
Regarding exposed records the worst year was 2018 (471.23 million records exposed) in the United States. As you can see below, four out of the top ten biggest data breaches were in that year.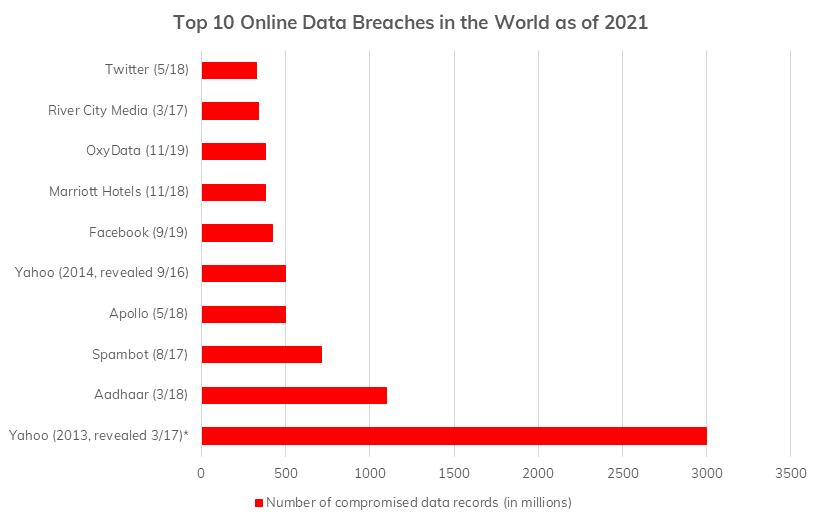 Frequency of Cyberattacks
Your website may likely be experiencing an attack right now. Back in the early 2000s, a study found that there was an exploit every 39 seconds. You may not realize it, but a huge number of visitors on your site can be bots.
In 2016, researchers measured a ransomware attack every 40 seconds and by 2019 this frequency speeded up to every 14 seconds. In 2021 it is expected to change to 11 seconds.
Cost of Cyberattacks
If a country would have as much income as the world's total damage from cybercrime, it would be the third-largest economy. By 2021, it is expected to inflict damages totally $6 trillion globally according to Cybersecurity Ventures and probably, became more profitable than the global trade of all major illegal drugs combined.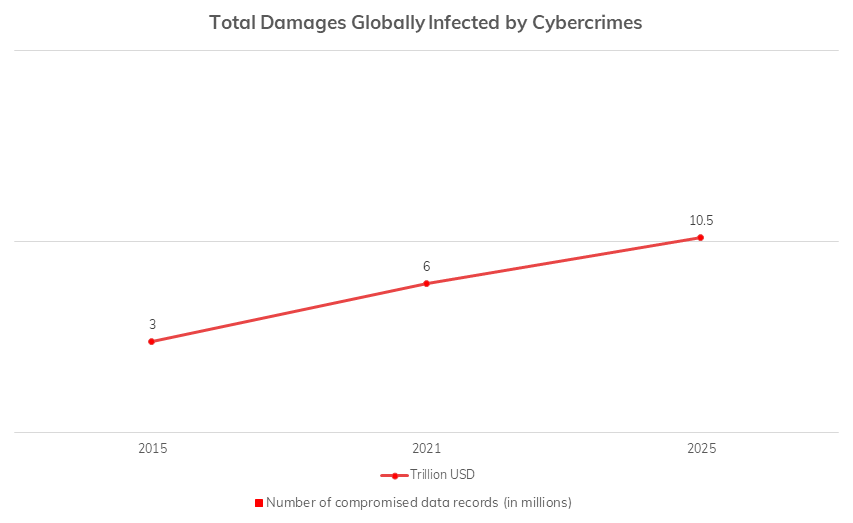 In 2015 experts measured a $3 trillion loss because of cybersecurity issues and by 2025, it is predicted to reach $10.5 trillion.
Even if there are more hackers and some of them have gotten smarter and more motivated, most still use regular methods to break through websites, so you can anticipate and prepare with the correct countermeasures to boost your level of security.
Conclusion
The web industry is constantly evolving every day so does the number of cyberattacks. The shared hosting industry will continue its growth for years but if you run a business in this industry you have to pay more attention to cybersecurity than ever. You have to consider a great security tool like BitNinja Server Security, and ensure your servers and websites remain safe against all types of cyberattacks.
If you haven't tried BitNinja yet, don't forget to register for the 7-day free trial! No credit card needed!
We are always happy to help you! If you have any questions, check out our Knowledgebase, feel free to ask at info@bitninja.io, or you can even reach us on the Dashboard chat!
Let's make the internet a safer place together!
The article was written with the help of Reese Jones.