Do you like going to conferences? We really do!
Not just because of the fizzing atmosphere, hot topics and mind-blowing technologies. It's you guys, who we like to meet in person at an exhibition. BitNinja users are from all over the world now from the US to Singapore. And these events provide such a great space to get to know you better.

The next one we are attending as exhibitors is WHD.global (March 15-17 – Europa-Park, Rust).
Let's meet at Booth Z29 or just have a coffee together after the exhibition days. Just ping us by email and we'll discuss the details.
Click here to add the event directly to your calendar.
What is WHD.global?
WorldHostingDays Global is the largest hosting event in the world. Over the last twelve years it has become the most successful event for the hosting and cloud services industry.
With more than 6000 international attendees, 200 sessions and keynote presentations, they guarantee that you won't get bored during these 3 days.

We're sure you'll find some exceptionally exciting program for yourself.
We have one special tip for you: don't miss George's breakout session, right on the very first day (Tuesday) at Rock Cafe. The topic is 'HoneyPots, they are not just for Winnie the Pooh Anymore':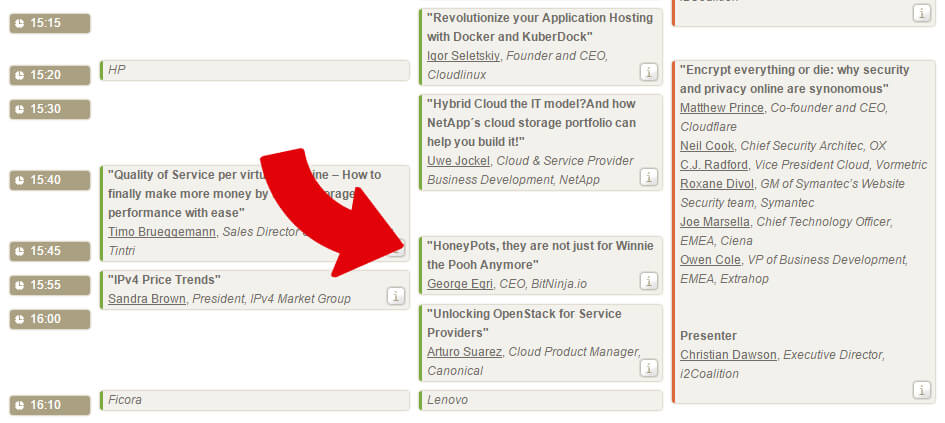 Year after year, WHD.global has become famous for the social events and unrivaled opportunities for networking. It has been said that many deals begun on the exhibit floor have been finalized at one of their social events.
Check the places you can have fun after the exhibition days.
Don't forget, ninjas will be there everywhere, so if you'd like to meet us, just send an email .