Last week we released our newest front-end development, which grants you a more transparent view of your installed servers on our already easy-to-use dashboard.
After logging into your account, you will instantly realize the improvements. On the servers homepage, the installed servers are shown on ninja-colored cards. Let's see in details their contents: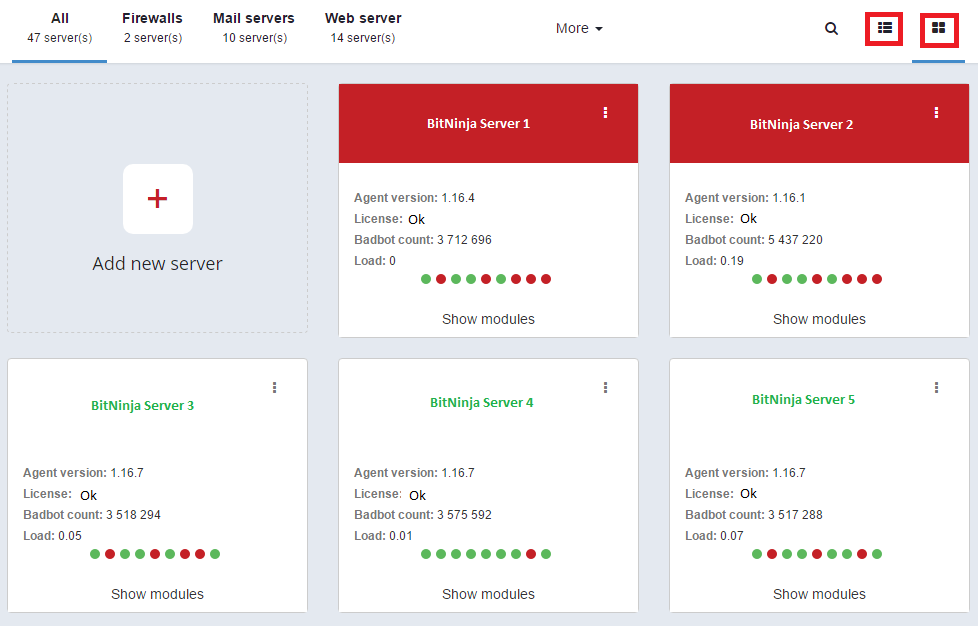 On the top-right corner, you can switch between the previous and the newest design
The cards with red headpiece show the servers on which BitNinja has been stopped. These servers always appear first on the server list.
The red and green dots at the bottom of the card present the 9 modules BitNinja has. The red dot means that the module is turned off, while the green means it is turned on.
In between, you can find the details of the server.
The Badbot count indicates the number of downloaded malicious IPs that gives the basis for BitNinja's IP reputation module.
You can add new servers by clicking on the Add new server card.
If you would like to enable/disable any module, click on the Show modules button. You will also see some charts about their performance.
If you click on the charts or on the server's name, you can see all of the diagrams and every statistics about the server.
However, if you do not favor to enable or disable the modules here, you can still find the Modules menu in the Menu bar.
Secondly, at the top-left corner, you can see that we grouped some servers according to their function. If you like this idea, you can do any kind of categorization by clicking on the More button.
A brand new means of analysis is available in the Files menu. If you would like to search for those attacks that were caught by our Malware Detection module, choose the Malware info from the sources, set the Date range and start the examination of malwares right now.
Our next development will include a malware report, offering the possibility of choosing the frequency of these e-mails.
We already provided the possibility of examining these files, which is still available just check the documentation site, though this front-end improvement makes it a lot more easier.
Stay tuned for further Ninjastic News.