Today our interviewee is Dhon Xean. He is a businessman from the Philippines who has one virtual private server. His income decreased because thousands of malicious bots visited his websites daily. Google Adsense discovered the issues and limited their advertising opportunities.
Let's see how Dhon Xean managed to resolve this issue!
Please introduce yourself!
-My name is Dhon Xean, and I'm from the Philippines. I launched a business in 2020—an e-commerce company that helps small businesses to deliver their products online and be available to the whole world. I always had a passion for serving others, and the mission of the company perfectly matches this.
How do you generate revenue? What percentage of your revenue comes from Google Adwords?
-We generate revenue by using the Google Adsense program. As for the percentage, almost 90% comes from this method—others are mostly donations.
What are your biggest strengths as a company?
-I would say our employees. Since we have the right people for the right job, we deliver quality products. They can focus on a certain field and have in-depth knowledge, making their work very efficient.
How many servers do you have and what kind of operating system do you use?
-We have one VPS, and we use Ubuntu on it.
Did you take cybersecurity seriously from the beginning at the company?
–No, I thought that cyberattacks mostly target big companies.
Why did you decide to start using BitNinja?
-Once, we encountered a huge number of bots visiting our sites. Google AdSense limited our advertising opportunities because there were too many bot visitors on our site, so we missed a lot of money that would have come from this source.
Did you use a cybersecurity tool during that time?
–Yes, we used Cloudflare.
What did you experience after you switched to BitNinja?
-After switching to BitNinja, our Google Adsense problem has been resolved, and we haven't had any botnet attacks since. Our revenue from AdSense raised significantly, a 200% increase, actually.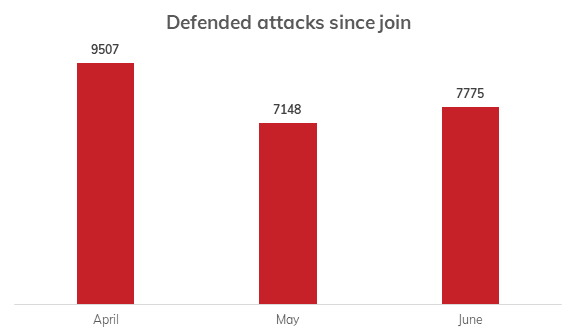 Did you find it challenging to implement BitNinja?
-Not at all. It's very simple.
What are the key areas where BitNinja has helped you improve the business?
-Traffic management, specifically blocking malicious bots and the backend security.
What would you highlight in BitNinja?
–Ease of implementing the backend security. Just a quick installation, and you can let BitNinja work its magic. I would also highlight the botnet blocking.
How would you describe your experience with BitNinja in 3 words?
-Secure, hassle-free, and comfortable.
Have you gotten in touch with our support yet?
-Yes. BitNinja has very good customer service support. I absolutely love it!
What are your plans for the future?
-I am looking to expand my business by adding another server in a few months, and I'm sure that one of the first steps will be installing BitNinja.
---
Don't let hackers ruin your business! Cybersecurity is not optional anymore. It is a must! If you haven't tried BitNinja yet, don't forget to register for the 7-day free trial! No credit card needed!
We are always happy to help you! If you have any questions, check out our Knowledgebase, feel free to ask at info@bitninja.io, or you can even reach us on the Dashboard chat!
Let's make the internet a safer place together!